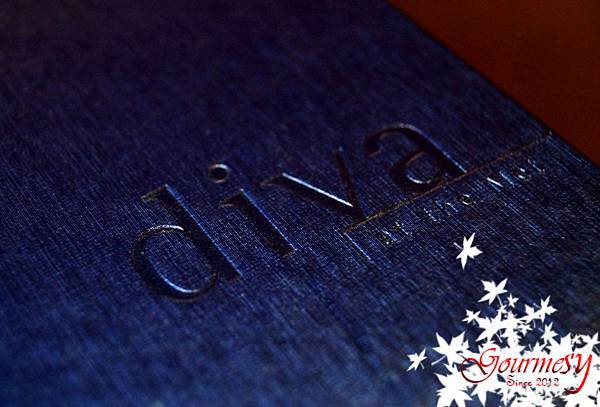 We visited Diva before and the impression is: food not bad but the lighting is too dim.
Then a new chef, Hamid Salimian, has come to Diva. He was a chef of Westin Apron and is famous for Molecular gastronomy.
Even though Molecular gastronomy already has some history, it's still pretty rare in Vancouver.
And Diva! Here we go!! 😀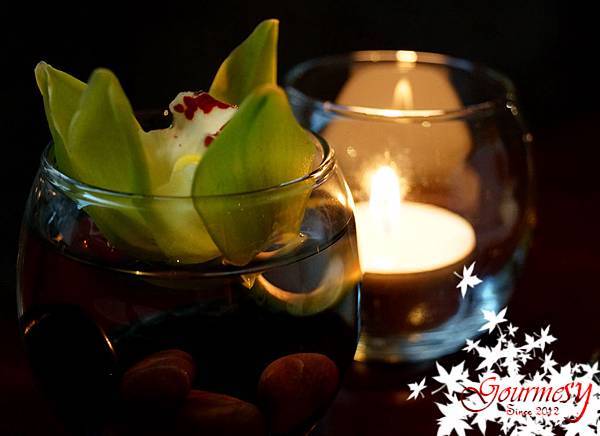 They have two tasting menu.
5 courses without wine pairing $55
7 courses without wine pairing $75
Both will start with several Amuse bouche. 
We have chosen 5 courses and comes with 5 Amuse bouche.
With this price, it's even more attractive.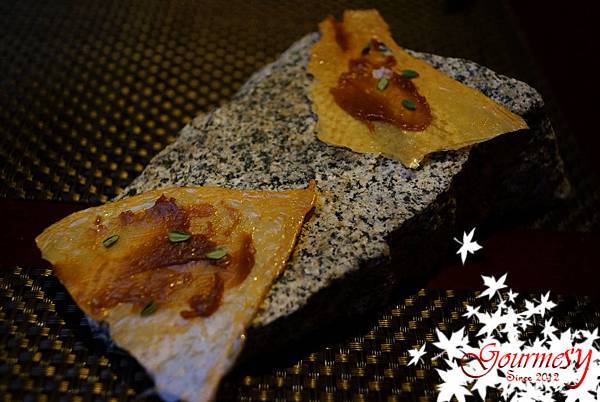 1.  chicken bacon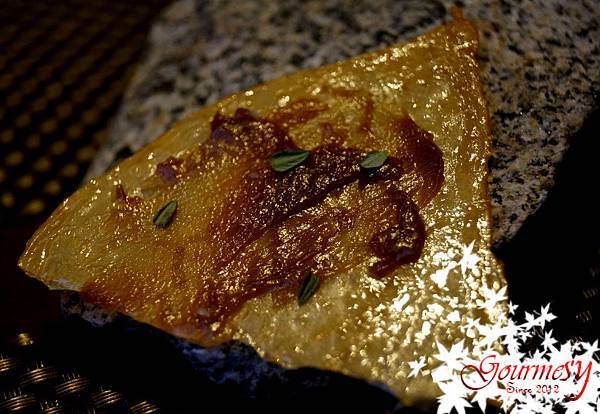 Very thin and crispy.
With a strong taste of bacon.
Not bad. Very rich.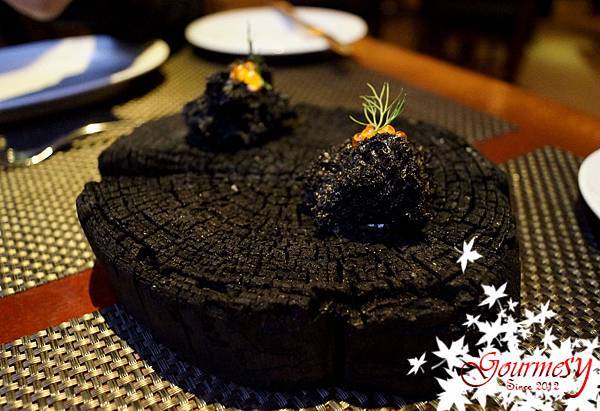 2.  Mussel coal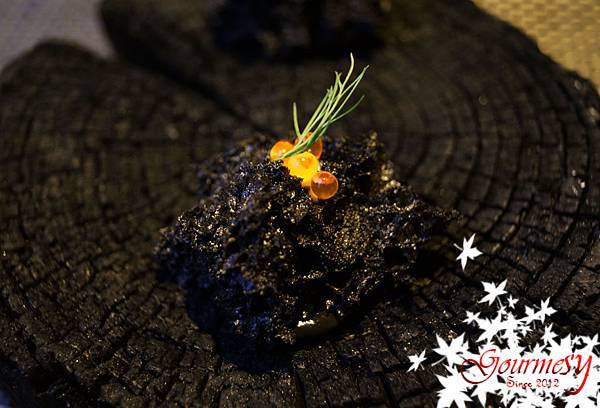 We thought it's either hard or crunchy but the actual texture is as fluffy as bread.
Very fun to eat but we are not quite used to this new look, taste and texture.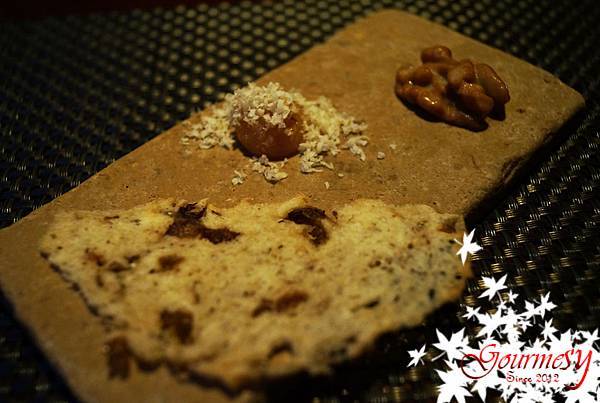 3. Foie gras walnut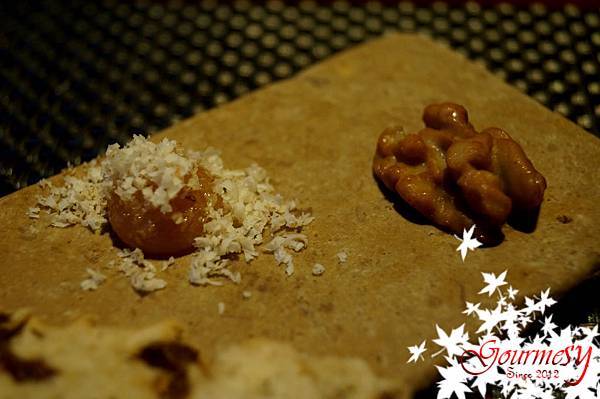 The crispy bread is extremely fragile. Tastes not bad.
The walnut is the foie gras. Looks super real!!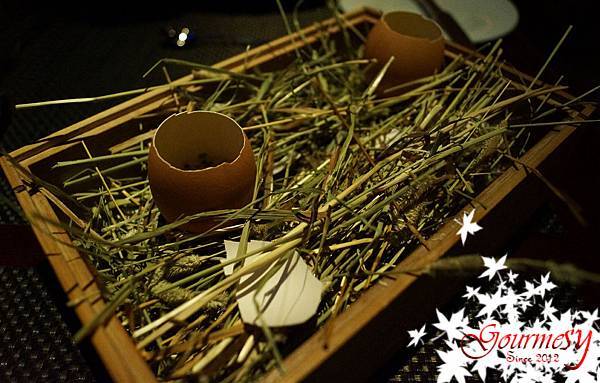 4. Smoked bone marrow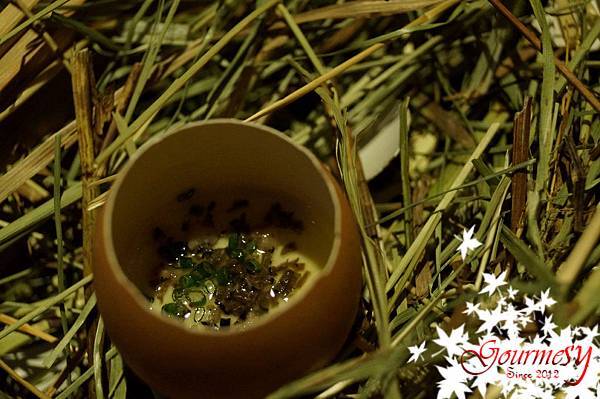 It looks like egg but it's not. The bone marrow is very rich and smooth.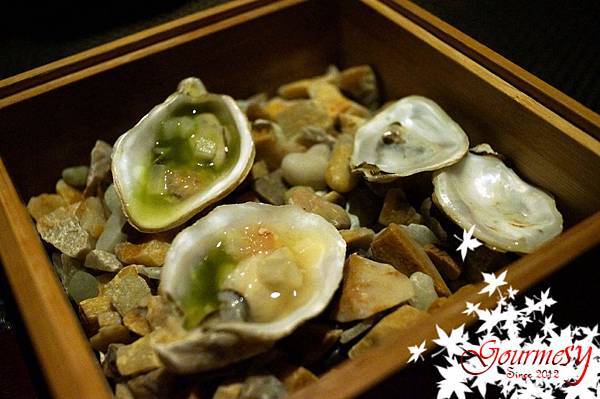 4.Oyster
Pretty fresh but the seasonings are a bit too sour and has covered the sweetness of oysters.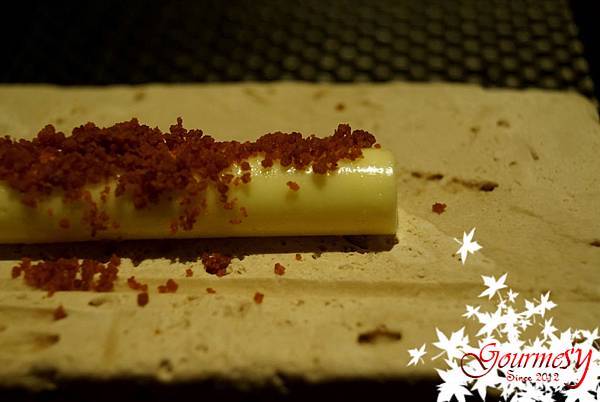 Butter with sugar. Looks cute and decent.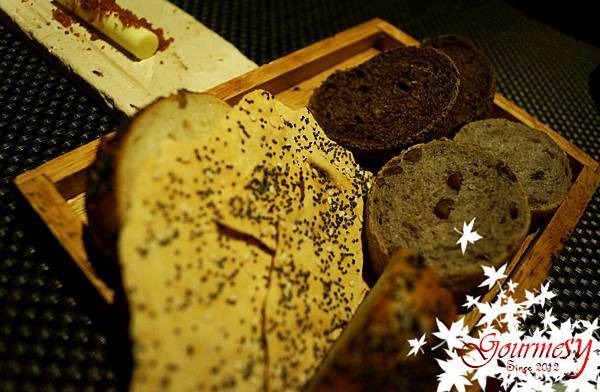 Various kinds of bread. Not bread.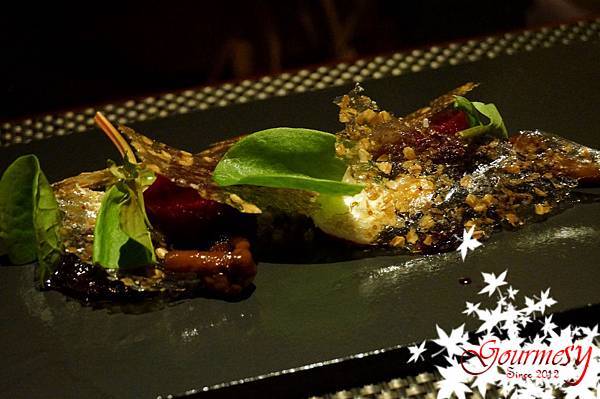 North arm farm beets
goat cheese, hazel nuts, buck wheat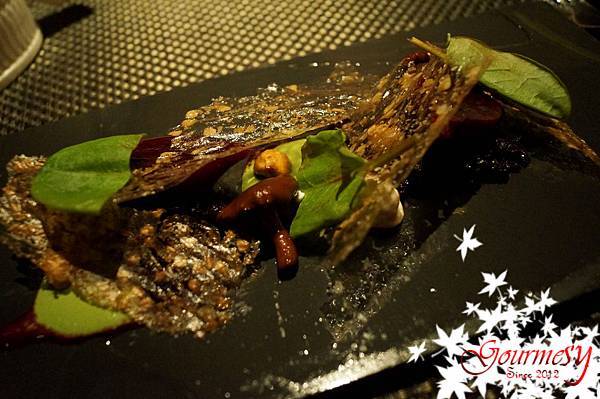 I don't really like beets but this is just DIFFERENT from what I had before. Very very sweet, almost like fruit instead of vegetables.
The goat cheese is smooth and not too strong.
Buckwheat slices are beautiful and fun to eat.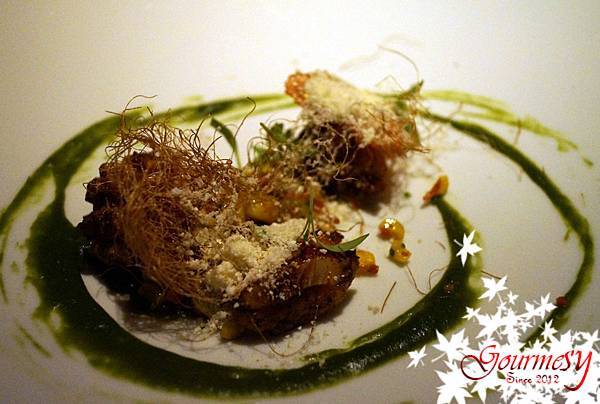 Blackened lobster
corn, scallion, jalapeno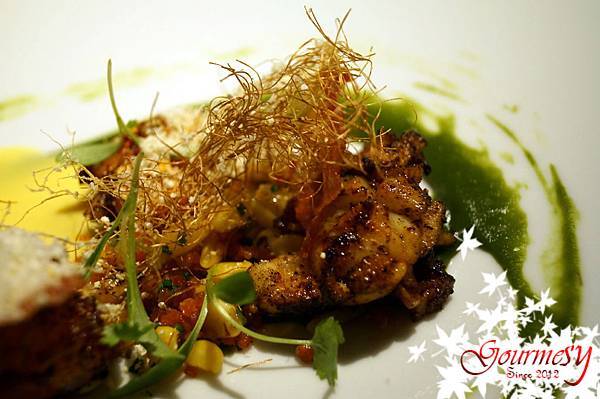 The lobster is good. It's a creative way to eat it with corn and corn soup.
Be careful of the sauce though, very very spicy.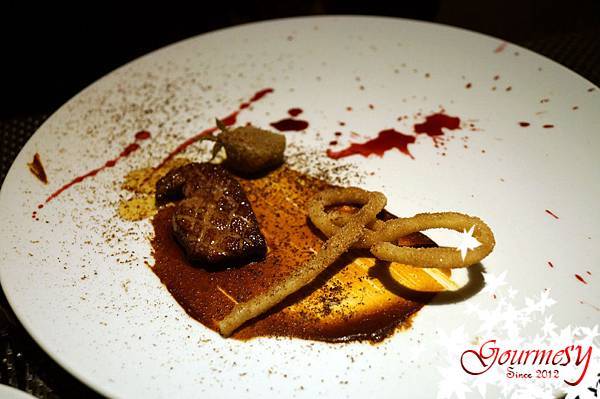 Quebec foie gras
mole, chocolate, green strawberries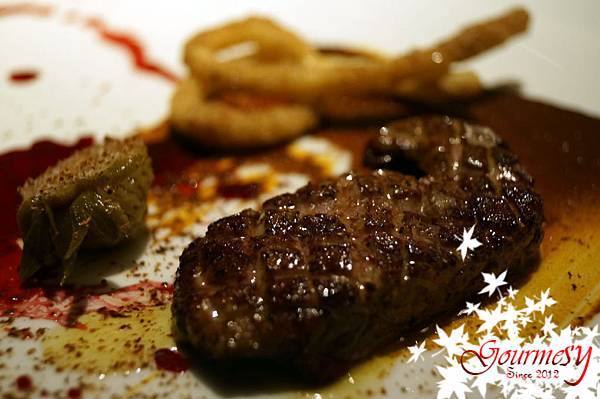 My favourite~~~
The foie gras tastes superb! Although Y thinks it doesn't quite match the Mexican Chocolate Sauce (Mole), I think it's still nice:P
Truffled lamb tender loin
truffle, salsify, natural jus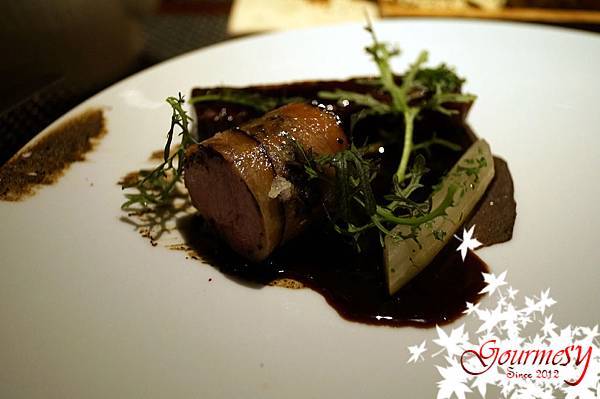 Tender loin two ways.
One is wrapped with salsify. Another is pressed as a stick.
Both are good and tender. The black truffle is nice and fragrant but not quite match with the tender loin, I think.
The display of the dish kind of remind me of Chinese ink wash painting. Beautiful.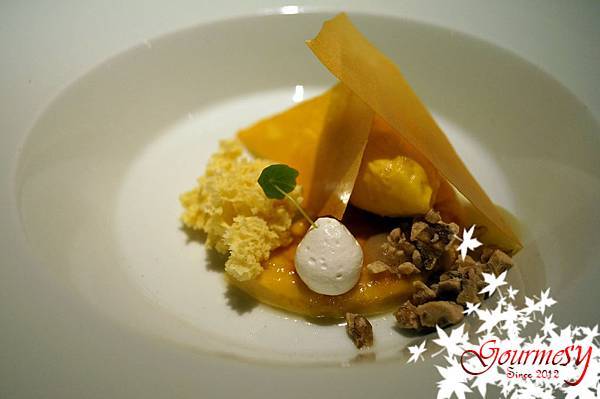 Pumpkin caramel pudding
praline, yam ginger ice cream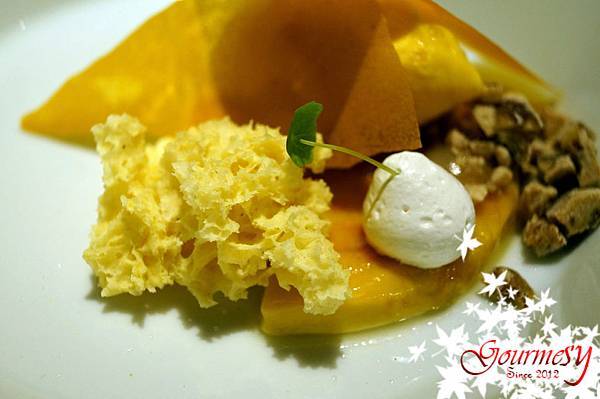 Love the color and the taste of ice cream and pudding.
Very refreshing and satisfying.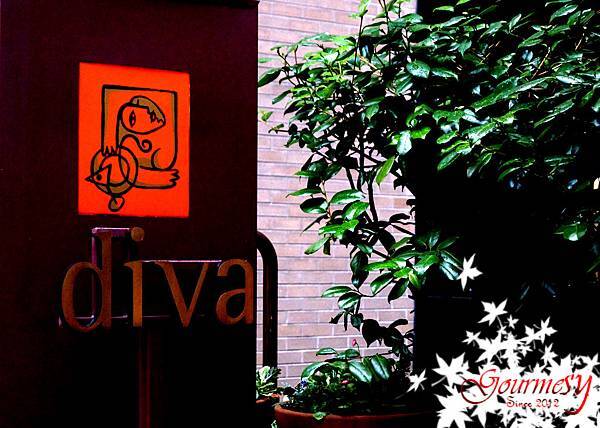 It's our first time to try molecular gastronomy. The experience at Diva does not bring us many surprises.
I guess it's because I have some fancy expectation of this new technique, hahaa.
The food is great and I really love the display of the dishes. Decent and beautiful.
Definitely are pieces of arts.
Diva at the Met
(604) 602-7788
645 Howe St Vancouver, BC V6C2Y9