Be our guest! Be our guest~~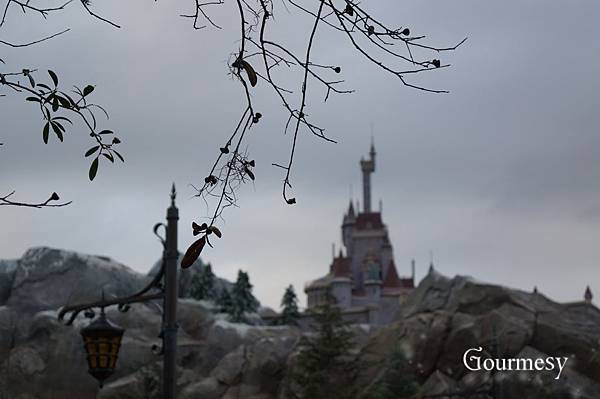 Being one of a Disney classic, I doubt if any body never heard of the lovely story – Beauty and the Beast.
What about one of the lovely songs in the movie, Be Our Guest?
It is played when Belle dines in the castle and woot!!! I can't believe I can dine in the castle>3<!!!
Here is the song~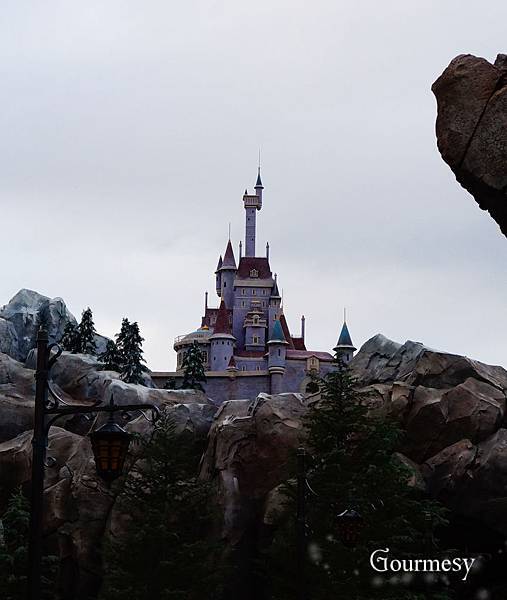 Reservation has to be made two weeks in advance. Of course! We didn't make reservation that early so it's full when we got to Orlando…weeps.
All we can do is line up before the gate and wait for cancellations.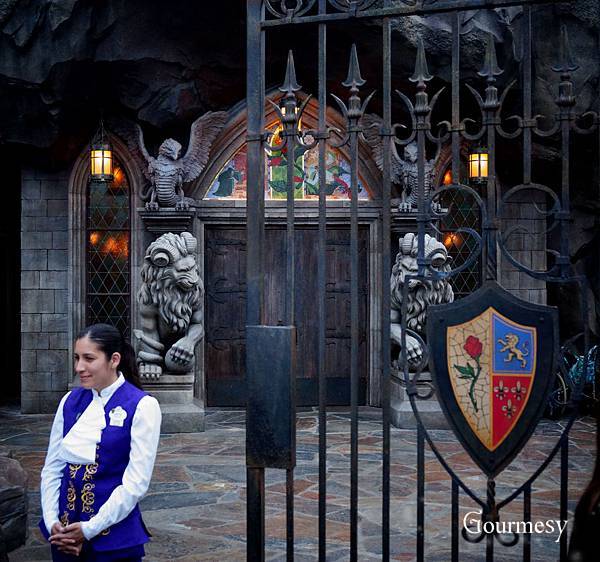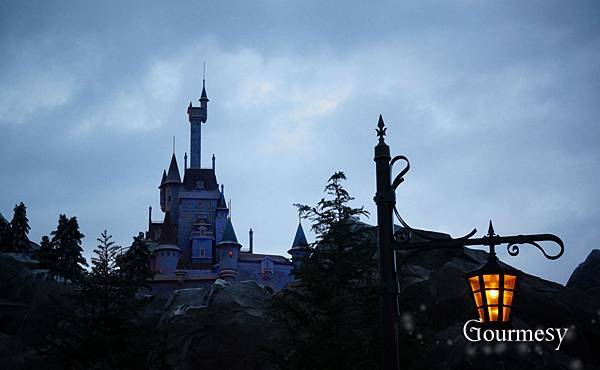 When we got there, the sun is still shining upon us:)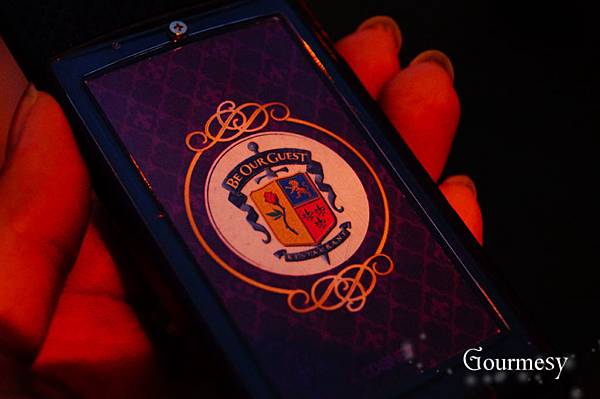 After a long wait (and we must wait at the bridge)…it's already at night:|
Make sure you have the complete party when the buzzer buzzes, or else they will put you on a hold><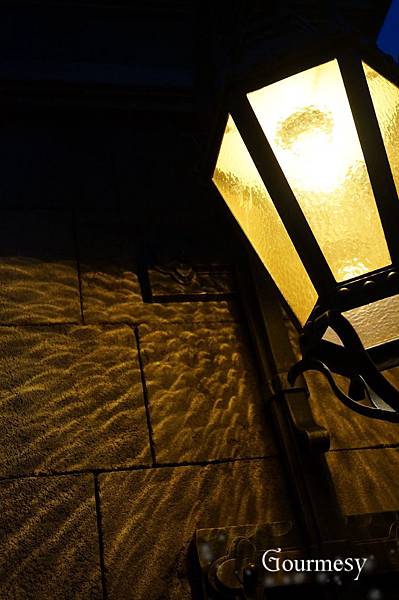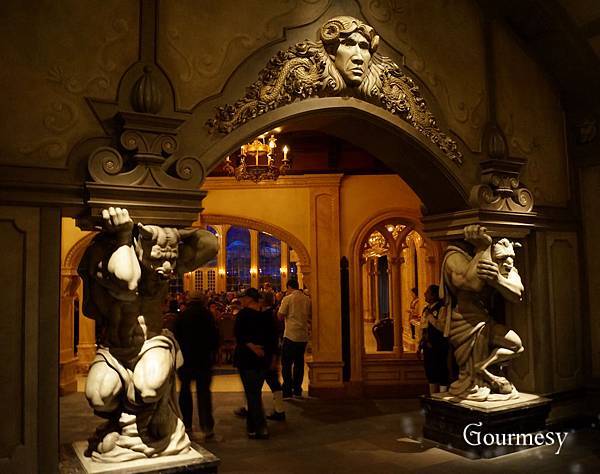 But we could get in without a reservation anyway! And I must admit that it is worthy of the wait:DDDD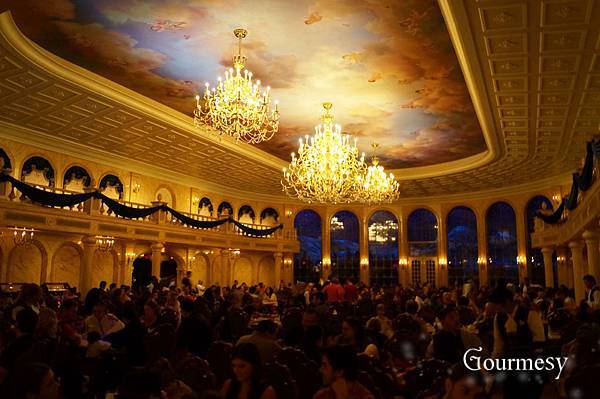 LOOOOOK!!!! Isn't it gorgeous??
And look what's outside the windows? It's snowy mountains!! And it's snowing~~~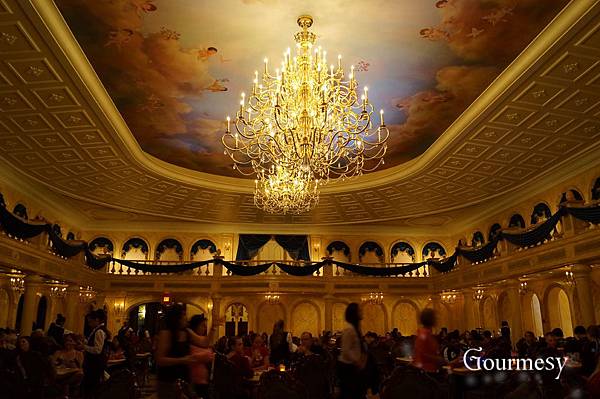 Wow…~~~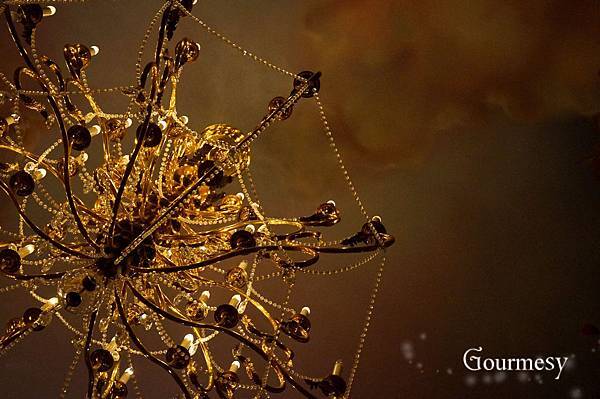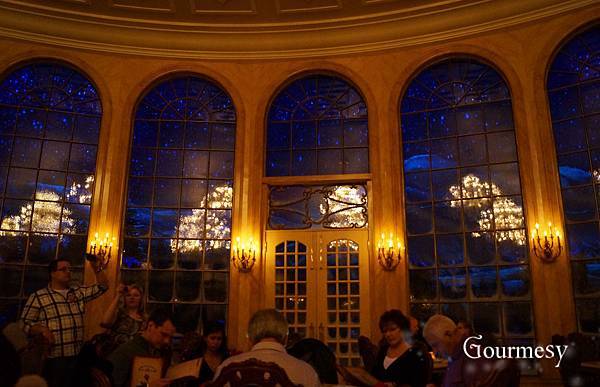 It's 25 Celsius outside and I could see snowflakes here!
Sometimes calm and sometimes stormy. Love it!
You can see people there are busy taking pictures:D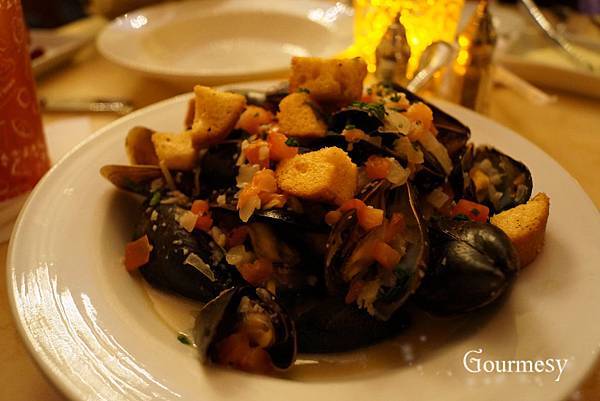 Mussels ProvenÇal
with White Wine, Tomato, Garlic, Onion, Basil, and Butter
The taste is good. The mussels are a bit too small.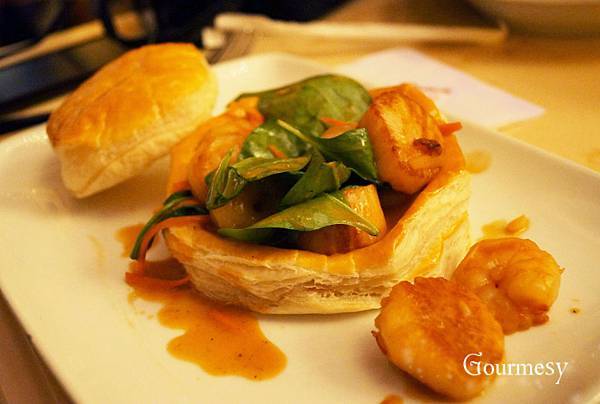 Sautéed Shrimp and Scallops
with Seasonal Vegetables served in Puff Pastry
with a Creamy Lobster Sauce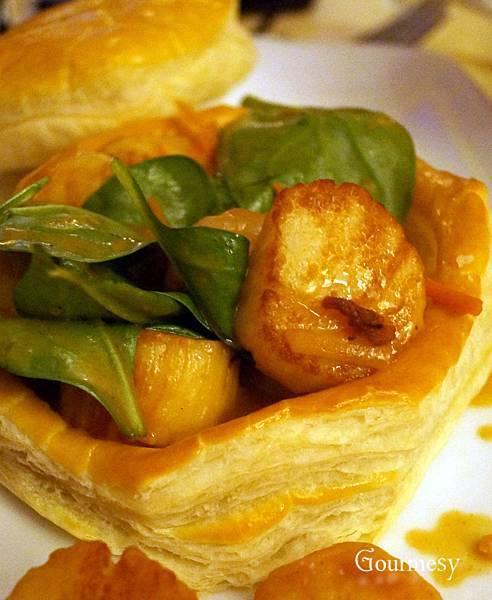 Yummy. Love the puff.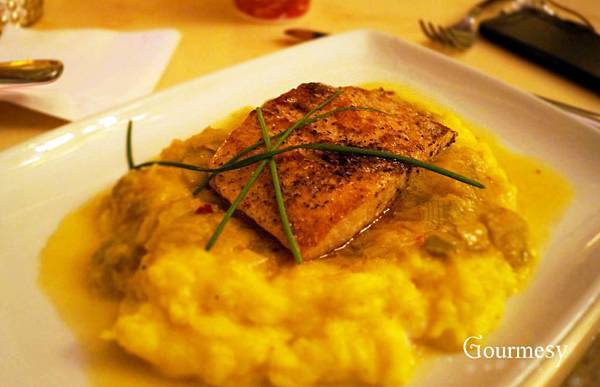 Pan-seared Salmon on Leek Fondue
served with Creamy Saffron-crushed Potatoes
This is a bit disappointing><the fish is a bit stale…
Doesn't look very attractive either. Not recommend.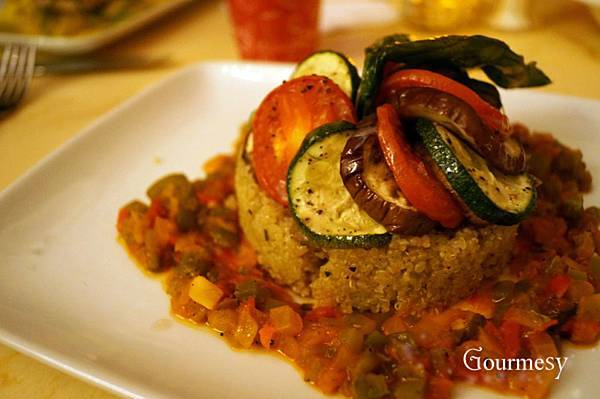 Layered Ratatouille
Oven-baked Zucchini, Eggplant, Mushrooms, Tomatoes, and Caramelized Onions
sliced and layered on Quinoa served with a Bell Pepper Sauce
Have you ever watched Disney's "Ratatouille"? If you do, I believe you also have some fancy imagination towards this dish, like we do, hhaha.
It's good and healthy:)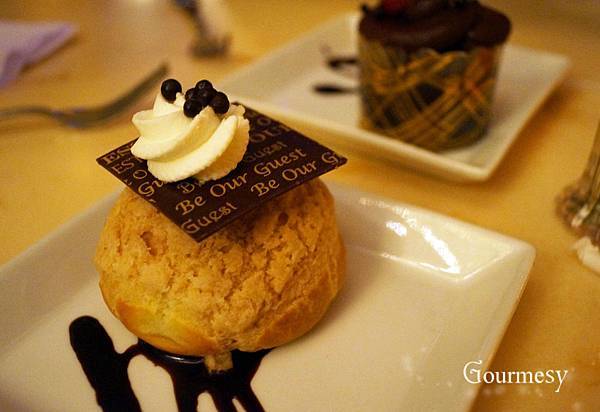 Chocolate Cream Puff
filled with Chocolate Mousse topped with Whipped Cream
I always love cream puff. The mousse inside is very smooth.
Nice.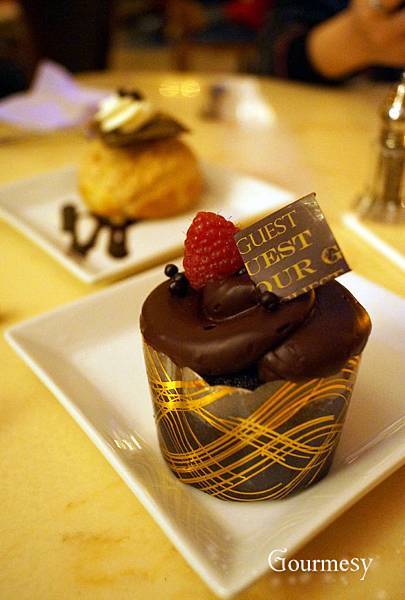 Triple Chocolate Cupcake
Chocolate Sponge Cake, Chocolate Mousse Filling, and Chocolate Ganache
Looks cute. To my surprise, not overly sweet. Yum.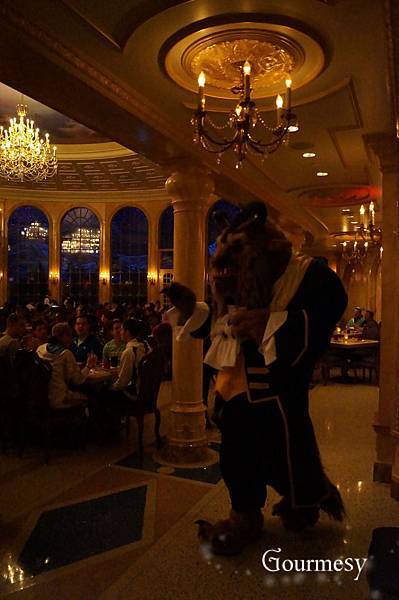 Oh~~! Here comes the beast saying hi to his guests.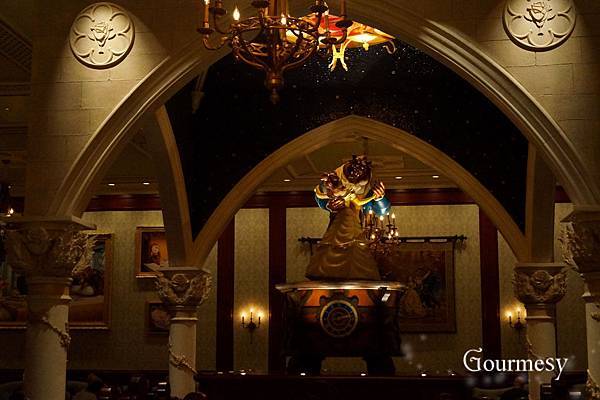 There is another room which is more beautiful and less crowded.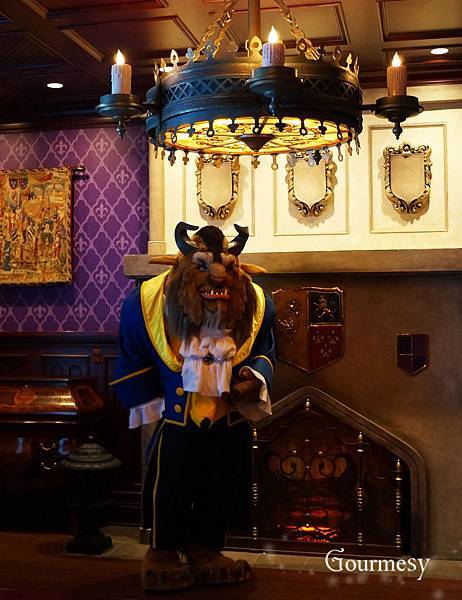 After you finish the meal, you can take pictures with the beast~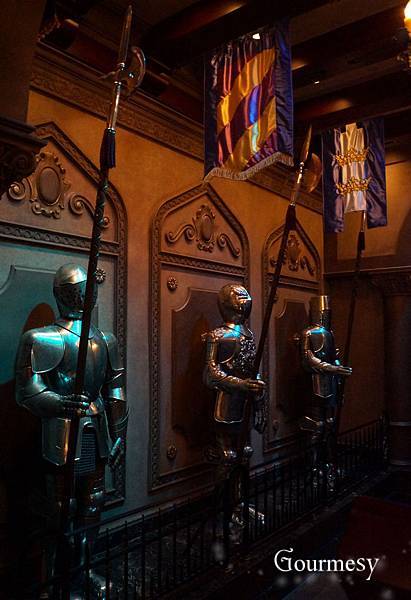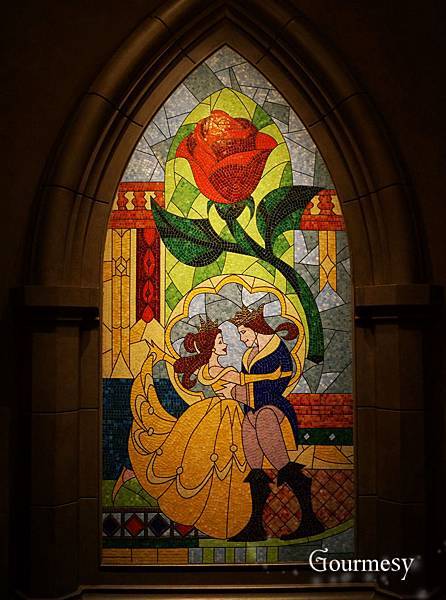 Love the ambience! We couldn't hold our "wow~~" once we stepped in the castle.
Can't expect too much on the food but we were too excited to care about the food hahaa, and the food is not bad actually. Just don't bring too much expectations.
We are so glad that we could dine there:)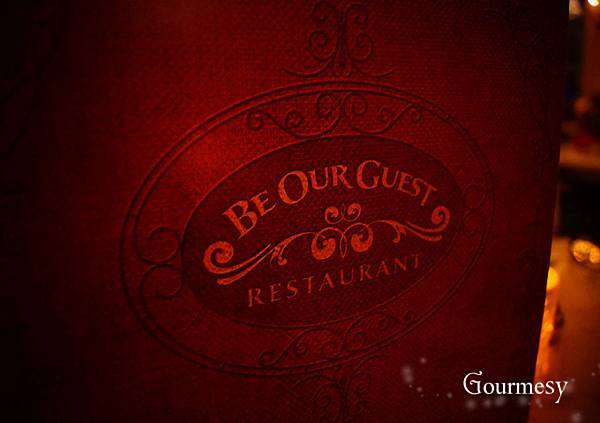 Be Our Guest Restaurant
(407) 939-3463
1365 North Monorail Way, Lake Buena Vista, FL
Related posts: